Our Mission Statement
The Tower Chorale offers the opportunity for choral musical enjoyment and growth, in an environment of fellowship, by means of a variety of secular and sacred musical experiences, providing an entertainment resource for the community and satisfaction for the performers.
The Tower Chorale is a 70-voice community chorus comprised of amateur and professional singers, including former members of the Chicago Symphony Chorus, Grant Park Symphony Chorus, Light Opera Works, Chicago Opera Theater and various community theater and music organizations. Many church choirs are represented. Known for musical diversity, this non-profit organization has been one of the premier music groups in Chicago's western suburbs since 1986. Our seasons consist of three concerts per year; December, March, and May. Music ranges from the classics of past centuries (Bach, Haydn, Mozart, Beethoven, etc.) to modern and ethnic pieces. Sung by up to 70 voices plus orchestra or ensembles of brass, timpani, and organ, the performances have led the Tower Chorale to become recognized as the premier vocal musical group in Chicago's western suburbs.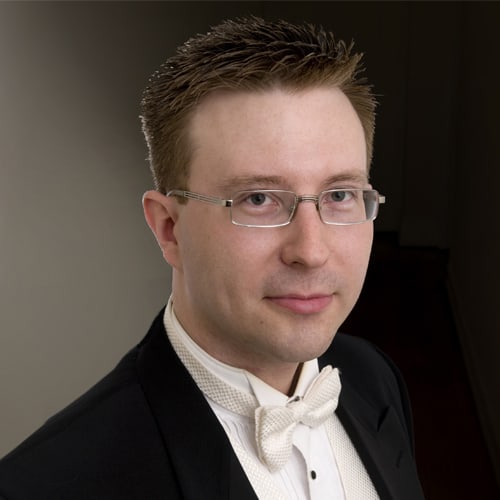 Patrick Godon made his debut as soloist with the Chicago Symphony Orchestra (CSO) in May 2007, playing one of the solo piano parts, along with Mary Sauer, in Colin McPhee's Tabuh-Tabuhan: Toccata for Orchestra and Two Pianos, with Alan Gilbert conducting. Since 2016 Patrick has performed the Principal Keyboardist duties regularly with the CSO on piano, celesta, organ, and synthesizer. He made his debut with the CSO as second keyboardist at Ravinia in 2003. He was invited to play principal keyboard on the CSO's 2018 East Coast Tour, January 2017 European Tour; second keyboard on the CSO's 2005 European Tour and for nine CSO Carnegie Hall performances. In 2015 he began performing regularly as organist with the CSO. He has played under leading conductors including Alsop, Barenboim, Boulez, Colnot, Conlon, Davis, Dutoit, Eschenbach, Haitink, Maazel, Muti, Nagano, Robertson, Salonen, Slatkin, and Tilson Thomas. He has served as rehearsal pianist for Daniel Barenboim and Deborah Voigt for Schoenberg's Erwartung. Godon also performs as orchestral keyboardist with the Virginia, Delaware, Milwaukee, and Peoria Symphony Orchestras. He is in demand as a collaborative pianist and has performed many live broadcasts on Chicago classical station WFMT.
In April 2018, he was the piano soloist in Beethoven's Choral Fantasy with the Symphony of Oak Park and River Forest (SOPRF) at Orchestra Hall. In October 2017, he performed Grieg's Piano Concerto with the Lake Shore Symphony Orchestra, with whom he has also performed Schumann's Piano Concerto,Tchaikovsky's Piano Concerto No. 1, and Rhapsody in Blue. In October 2010, Patrick was the soloist in Dohnanyi's Variations on a Nursery Rhyme with the West Suburban Symphony Orchestra. In 2005, Godon was the harpsichord soloist in Alfred Schnittke's Concerto Grosso No. 2 with the Civic Orchestra of Chicago, along with Gidon Kremer, violin, and Kristina Blaumane, cello. In 2004, he was the harpsichord soloist in Alfred Schnittke's Concerto Grosso No. 4, "Symphony No. 5" along with Alicia Koelz, violin, and Somerlie Aston, oboe. Godon has also appeared as soloist in Bach's Brandenburg Concerto No. 5 with the SOPRF, and in both 2002 and 2008 with the DePaul University Wind Ensemble in Hindemith's Konzertmusik, with Donald Deroche conducting.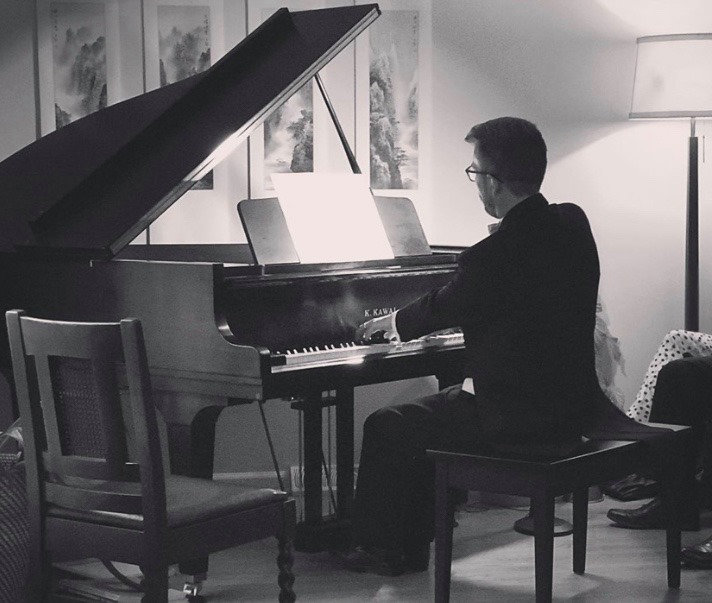 A nine-year member of the Civic Orchestra of Chicago, Patrick served as principal pianist from 2002-2007. He has performed in Civic's chamber music masterclasses for Mitsuko Uchida and Thomas Kakuska of the Alban Berg Quartet. The Civic Orchestra, celebrating their 100th season in 2020, has invited Patrick back to perform the organ part as a distinguished alumnus for their February 3 performance of Saint-Saëns' Organ Symphony.
In July of 2011, Patrick became the Music Director of the Tower Chorale and made that year, our 26th, a rousing success. He continues to program wonderful concerts and challenge the Chorale in exciting ways!
Patrick is artistic director and pianist for the International Chamber Artists (ICA), a chamber music ensemble that he founded in 2006. ICA showcases a diverse group of professional musicians and performs a wide variety of repertoire. Through educational components during performances, ICA seeks to sustain the future of classical music audiences. ICA performs a series of 5 concerts at the Church of the Holy Spirit in Lake Forest, and also has been featured on WFMT, at the Chicago Cultural Center, the Morse Theater, St. James Cathedral, the Belden Stratford Hotel, the Schaumburg Prairie Center for the Arts, and the Harris Theater for Music and Dance. ICA went on its first international tour to Germany in September 2009 to critical acclaim. Discover more about this exciting ensemble at www.ICAmusic.org.
In 2010, Patrick toured Japan twice as duo pianist with Reiko Yamada. They performed concerts in Tokyo and Nikko of music by Akira Ifukube, composer of the original Godzilla film score. One review said, "Mr. Patrick Godon possessed an embracing quality and he enveloped her in his warm-colored sound. I'm sure that everybody in the audience must have been attracted to his humanistic qualities. This concert is one that cannot be measured by normal standards; it took us to another dimension." They returned to Japan in August 2014 to present concerts in honor of Ifukube's 100 year birth anniversary. Patrick has also performed duo piano works with CSO former principal piano Mary Sauer on stage at Orchestra Hall.
From July 2003 to August 2018, Patrick was the Director of Music at St. Gregory the Great Church in the Andersonville/Edgewater neighborhood, where he composed and arranged a variety of music for liturgies. He has led the parish choir on European performance tours to France, Spain, Italy, Ireland, Greece & Turkey; and within the United States to Louisiana. Accepting an invitation from the Chapel Master of St. Peter's Basilica in Vatican City to participate in the 500th anniversary of the Cappella Giulia, he returned to Italy with the choir in March of 2013. Only 68 choirs from around the world were initially invited and 18 accepted this honor. Patrick has recorded demo CDs as pianist and organist for World Library Publications and for the Gregorian Institute of America, sent to church musicians nationwide.
In August 2018, Patrick was named the Organist/Choirmaster at the Church of the Holy Spirit in Lake Forest, IL. He oversees the music program and leads the St. Gregory's Youth Choir, Holy Spirit Choir, and Evensong Choir.
A native of Fargo, North Dakota, Patrick Godon began his studies with Chicago Symphony principal piano Mary Sauer in 1997. He studied with Andrzej Dutkiewitz at the Interlochen Arts Camp in 1995, and with Jacob Lateiner in New York City at the Mannes Beethoven Institute in 2001. In 2000, he studied opera coaching with Linda Hirt and Benton Hess in Urbania, Italy through the Oberlin Conservatory. He holds both Bachelor of Music and Master of Music degrees in Piano Performance from DePaul University. He and his wife Keri are the proud parents of Gilbert, Oliver, and Atticus.
James Winfield, Founder
James Winfield, the Tower Chorale's founder, brought a wealth of professional experience to the Tower Chorale. He has had several choral and instrumental arrangements published. Twenty five seasons of his concerts were known for their excitement, variety and innovative programming. He sang in the Chicago Symphony Chorus for seven years and served as Associate Director of that ensemble for eight years under its founder, Margaret Hillis. He spent another eight years as music director of the West Suburban Symphony Orchestra of Hinsdale and has had several choral and instrumental arrangements published. He served as Music Director and Organist of the First Congregational Churches of Western Springs and Elmhurst for a total of 41 years, and, since 1999, in the same capacity at the Oak Park Temple B'nai Abraham Zion. Mr. Winfield holds music degrees from Indiana University and Northwestern University.
Board of Directors
Patrick Godon — Music Director